Web Accelerator Technology
Simple.Net offers web accelerator technology as part of its MySimpleWeb, MyBusinessWeb Internet service plans.

Surf up to 6x faster than standard dial-up using web accelerator.



What is a web accelerator?
Definition: A web accelerator is a "proxy server" (computer) that resides between your personal computer and the Internet and reduces web site load times.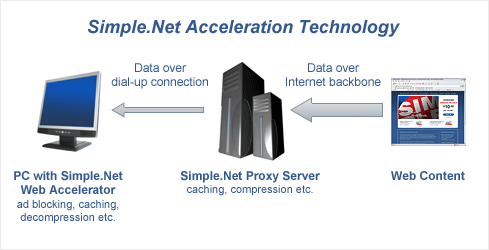 Simple.Net's acceleration technology "caches" (temporarily saves) recently or frequently accessed HTML and image files so they're sent to your computer at a faster transfer rate. In your case, up to 6x faster than standard dial-up.


Our compression algorithm greatly increases Internet connection performance with only minor reductions in image quality. For even faster load times, adjust your image quality, stop animated gifs and even block unwanted flash animations.

Simple.Net's web accelerator not only improves your web site load times, it also speeds up your emails!

Spend less time loading and more time communicating with our acceleration technology at your fingertips.
Outperforming the Competition
Faster transfer rates aren't the only reason Simple.Net's web accelerator outperforms the competition. Our service has also proved more reliable than our competitors' technologies and has been acclaimed by industry authorities like PC World.

If you haven't already taken advantage of this easy and affordable dial-up Internet service offer, contact our Customer Service Center at

1-800-487-7467

to sign up today!
Internet Access
From Only


Learn More



MySimpleWeb
Internet Access Made Simple
Only $15.95
per month!


MyBusinessWeb
Powerful Business Access Made Simple
Only $24.00
per month!





Compare Plans